OUR TECNOLOGY
At TITAN BOX WEAR, through our constant research, we develop specifc fitness oriented technologies, we put all our efforts and knowledge in our products to help you achieve your fitness goals. We conduct continuous and numerous quality tests of our products directly in gyms all over, taking our products to the limit, so you only will have to worry about training, We listen to our customers and we know that our best presentation is our quality. Here at TITAN BOX WEAR, we are not only fitness passionate persons, but also engineers, and we bring the best of both worlds together in every collections.
Ttecnologies developed by TITAN BOX WEAR:
This ground breaking glove technology is based on using an advance polymer and shaped them into Hexagons, resulting in a structure that gives the gloves its amazing grip and at the same time protects your hands during the hardest workouts. The carefull and studied placement of these tiny hexagons on the palm of the glove, makes that every corner works together with those around, incrising the friction and providing you with a sense of confidence and security trough your bar or rings workouts.

We have placed directly on the SHIN ARMOR compression socks, a front cushioned panel to give an extra layer of protection during your deadlifts, rope climbs and box jumps. This protection is already on your training socks so you do not have to worry about bringing something else to the gym.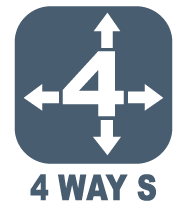 4 WAY S
Our garments and accesories are made with strong and elastic fabrics, the use of 4 WAY S tecnology gives our products, the dynamics for high intensity trainings, our fabrics move, stretch and adapt without limitations to every move you make, allowing for a great sense of freedom.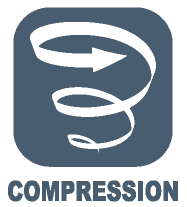 HELICAL COMPRESSION
Our core HELICAL COMPRESSION socks technology has been developed to offer you protection and comfort during your workouts. Our SHIN ARMOR compression socks have embended this technology that allows blood flow to return to the heart from your lower extremities faster, the compression peak (20 mmhg) is at the ankle area. the spiral compresive structure built in our socks is much more effective compare to the simple tubular ones. Among the benefits that our HELICAL COMPRESSION will give you are: increase performance, reduction of the fatigue and risk of injuries, faster recovery and increase of oxigen in blood flow.
AURA DRY
This revolutionary system is present in all our products, it is responsible to drive out sweat to the outside to evaporate, this is achive trough a capilary estructure that drives humidity out the fabric, keeping it dry and light. The upper fabric of our HEXAGRIP gloves uses this technology.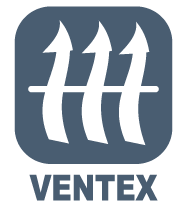 VENTEX
THis symbol is a synonysm for comfort, this technology is used in strategic areas in all our products, the exclusive canal structure design will dissipate body heat to the exterior, just right enough to keep you comfartably cool and making sure you get all benefits from your workout.
COMFORT RIDE
This SHIN ARMOR compression socks exclusive technology, provides great comfort during runs and jumps, because of the just right amount of cushioning at the footbed, reducing the chance of injuries or blittering because of impact and vibrations.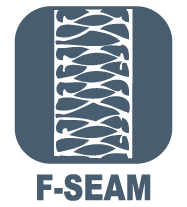 F-SEAM
All our products are manufactures with the latest advances in textile machinery technology, with extreme care on details, we use 100% flatlock seams in all our products, This way we make sure there no sticking parts that can cause irritation to the skin during the workouts.